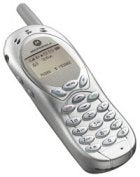 CDMA 1X is backward compatible with IS95A/B and supports up to 153kb/s packet data. This increased speed helps create opportunities for telecom operators to have more voice bandwidth on their networks and add value-added applications, such as high-speed Internet access, advertising and video conferencing. If a 1X handset is used in conjunction with a fully functional 1X network, end-users can download data directly from the Internet to portable wireless equipment such as mobile phones, laptops, palm computers and personal digital assistants (PDAs).
In January Motorola introduced its first Code Division Multiple Access (CDMA) 1X mobile phone for USA, marking the company's fourth 1X product offering globally. Motorola has equipped its 120x mobile phone with the latest in high-tech features. The phone will work on most major carriers' current networks and on the new, higher-speed cell phone networks Cingular Wireless, Sprint and Verizon Wireless are expected to introduce this year.
The device will be capable of supporting high-speed packet data and will provide consumers with the ability to stay organized with its advanced phonebook and scheduling features, or entertained with its messaging and gaming capabilities
The new networks supposedly will be able to handle more cell phone calls at the same time, which carriers say will make cell phones more reliable to use
The Motorola 120x is equipped with Motorola's new MP3 Player accessory -- a 2002 CES Innovation honoree -- enabling users to take their favorite MP3 music files with them
When using the MP3 Player, an incoming call is recognized by a pause in the music, which can be accepted or sent to voicemail with the touch of a button. If the call is accepted, users simply speak into the microphone included on the cord of the MP3 Player headset. The MP3 Player is powered by the battery in the phone, with one hour of music listening utilizing the equivalent of only 20 minutes of talk time.
| | |
| --- | --- |
| | |