Moto Maker may offer a leather option this year
7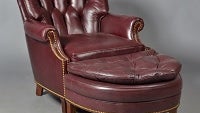 If the year 2013 brought us the ability to have a wood backing on our
Motorola Moto X
using Moto Maker, then why not roll out leather in 2014?
The reliable sources at @evleaks had only this to say, "2013:wood::2014:leather." What kind of leather you might ask (you may be asking "why" too)? Well, whatever it is, it would have to be treated properly so that it can withstand the rigors of daily use as a smartphone while protecting the components inside and environment outside.
Does that mean we might be able to request "soft Corinthian leather" as once could be custom ordered with the 1975 Chrysler Cordoba coupe (as advertised by the famous Recardo Montalban), or as may be found on a large chair in one's living room? Imagine, throw in some real stitching to one-up Samsung devices, maybe a few real buttons to stamp into the cushioning, and you could have a beauty of a back plate.
Okay, all that is highly unlikely, but certainly possible. The glitz possibilities would be endless. Leather wears pretty well, but it does wear, and it scratches very easily. It is nice to have choices, but should this option become available, you will probably want to weigh all your options carefully.
We do not know if this idea could be tied with the
rumored Motorola Moto X + 1
we told you about yesterday, but we hope the "+1" is not the leather.
source:
@evleaks
(Twitter)