Moto G to get Android 4.4 KitKat by January, takes swings at TouchWiz and Galaxy S4
14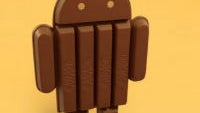 Motorola hasn't surprised anyone by taking the Google pathway when designing its new devices. The new Motorola devices are sticking very close to Google Android with only minor customizations, and that strategy has been a big part of today's
Moto G announcement
. Of course, singing the praises of Google Android is one thing, but Motorola has also taken the time to jab at custom skins like TouchWiz.
The big news is that because of the very minor customizations that Motorola has made to the Android software (only adding in Motorola Migrate, Assist, and camera app tweaks), Motorola is touting exceptional performance and extremely fast updates. Motorola has confirmed that the Moto X will be getting
Android 4.4 KitKat
in the next few weeks, and it has now said that the Moto G will get the KitKat update by January.
The interesting part of the announcement is how Motorola took this opportunity to take swings at custom skins like Samsung TouchWiz and HTC Sense. Motorola gave voice to a lot of concerns over those customizations saying that they slow down performance, add bloat to devices, and slow down system updates. Motorola even went on to say that the Moto G outperforms the Samsung Galaxy S4 in some basic functions, including making/receiving calls and boot time, because of the minimal customizations.
We won't expect the performance of the Moto G to outpace the S4 in any other ways, but for basic usage, that's pretty impressive.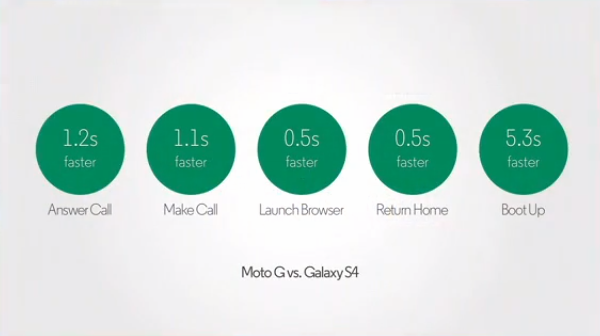 source: Motorola