Moto 360 vs LG G Watch vs Samsung Gear Live - an early look
22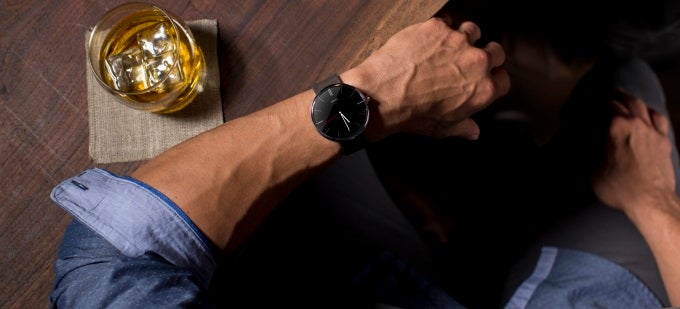 Our anxiety for this year's Google I/O being all about obscure developer stuff quickly dissipated when the company launched Android Wear. Currently, there are three exciting Wear OS gadgets - the Moto 360, the LG G Watch, and the Samsung Gear Live. Mostly same on the inside, but very different on the outside, these high-tech timekeepers have a lot going on besides sheer novelty. Now feels like the right time to have an early, but well-informed look at how the three wearables compete with each other.
Design
Different as they are, the Android Wear watches share some common traits. All three are designed as water and dust-proof, metallic, and accepting of standard 22mm watch straps. The likenesses end here, however.
The Moto 360 looks very distinct from LG and Samsung's square watches with its 'classic' round form. This is the fashionable, outgoing one in the Android Wear pack - the one that provokes a "nice watch!" reaction, instead of a "hey, what's that thing on your wrist?"
In opposite, LG 's G Watch wears its Nexus colors with pride. It's plain, unassuming, and with its own geeky appeal. Visually, it's not a stunner like the Moto 360, but the G Watch is sturdy, thanks to its PVD-coated stainless steel construction. It's available in black and white with gold accents.
Finally, the Samsung Gear Live is the best-looking Gear smart-watch to date. Its lines and curves are smoother, and the faceplate no longer has those aggressive metallic screws. This one is sold in black and red.
Weight is an important factor unless you don't care about wrist cramps. It comes down to 63 grams (2.2 Oz) for the G Watch and 59 grams (2 Oz) for the Gear Live. Both are reasonably compact at 1.5 x 1.8 x 0.4 inches (37.9 x 46.5 x 9.95 mm) for the G Watch and 1.5 x 2.2 x 0.35 inches (37.9 x 56.4 x 8.9 mm) for the Gear Live. Unfortunately, we don't know how the Moto 360 sizes up to its rivals.
Display
The Moto 360 distinguishes itself with a circular display that's 46mm, or 1.8-inches wide in diameter. According to the watch's design chief, Jim Wicks, the round form offers the most screen real estate without compromising functionality and comfort. The display's exact resolution and pixel density are not yet known, but our own Maxwell R. had only good things to say about its image quality.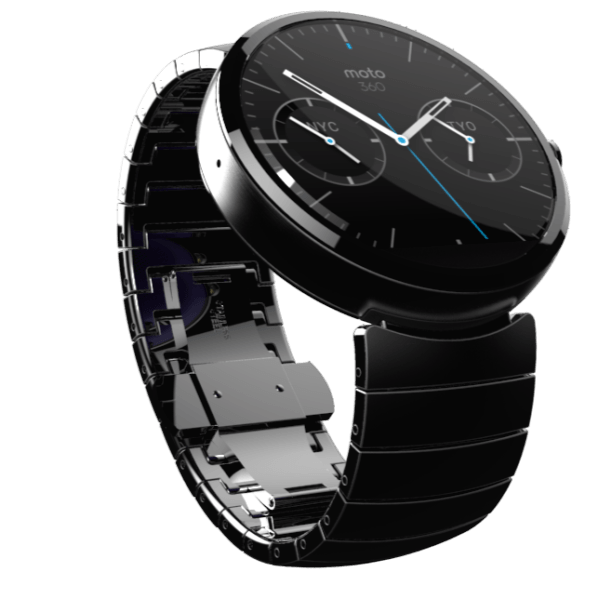 The Moto 360 has a circular display
The inconspicuous LG G Watch goes for a 1.65-inch diagonal square-shaped LCD IPS display with a resolution of 280x280. The pixel density clocks up to 240 pixels per inch, which means you won't distinguish individual pixels at the usual distance a watch is viewed from. Although the screen remains "always-on", it automatically dims when you haven't interacting with it for a while. Presumably, it remains bright enough as to show the time. We assume this is how all Android Wear smart-watches will work to conserve precious battery life.
With the Gear Live, Samsung predictably opted for a Super-AMOLED screen. The screen is 1.63-inches by diagonal, but it has a higher resolution of 320x320 compared to the G Watch. With a pixel density of 278 pixels per inch, you can count on it for a clear picture when it isn't viewed at an unnaturally close distance.
Software and features
All three smart-watches are powered by Google's Android Wear operating system and pair with devices running Android 4.3 and up. Their watch-faces present information such as the time of the day, the user's location, and notifications from the user's phone. Having an integrated microphone means they are able to handle Google Now commands – such as searching the internet, setting appointments and notes, playing music, getting directions, translations, flight times, and all that good stuff. You can get see how the interface looks inside the gallery to the right.
There are "wearable" apps, too. So far, we've caught a glimpse of Pinterest, Lyft, Soundlink, Eeat24, Allthecooks, and PayPal. They should look the same on all Wear devices. There will be more to come soon, of course.
For all we know, the core software experience is the same between the three watches, and there are no differentiating software features to be taken into account at this early stage. However, Samsung already plans to bring its S Health platform and other services (such as ChatON) to the Gear Live, and it's kind of a given that other manufacturers will follow suit.
Hardware
While the Moto 360 is yet to be profiled, LG and Samsung's wearables run on a Qualcomm Snapdragon 400 processor clocked at 1.2GHz, with 512MB RAM, 4GB internal memory, and a bunch of sensors - gyroscope, accelerometer, compass. The Gear Live has another advantage over the others - it embodies a heart-rate sensor.
Battery life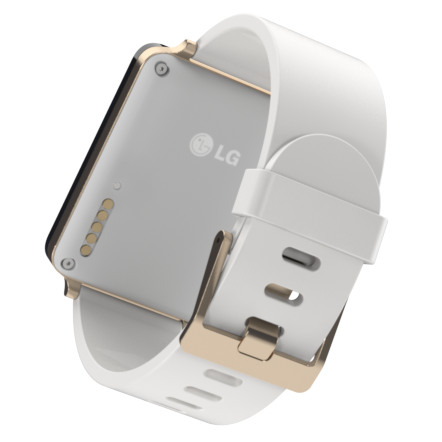 The G Watch's wireless charging pins
There's something rather intriguing about these smart-watches – they are the first wireless-charging only electronic devices in history. If you're looking for a microUSB port in there, you'll find none!

While the Moto 360's battery capacity is yet to be announced, the LG G Watch has a 400mAh battery. LG hasn't been too specific about the G Watch's battery life, but it's said to last a full day of usage, 36 hours in an idle state with the screen always on, and even longer with the display switched off. The Samsung Gear Live has to make do with a smaller battery - 300mAh, but Sammy is promising an "all-day battery life" for it.
Price and availability
Price-wise, the Moto 360's is expected to cost a minimum of $249 in the USA and 249 EUR in Europe. Alas, its release date remains elusive. All we know is the Moto 360 won't be coming around until "later this summer".
The other two are already up for grabs. The LG G Watch is available for pre-order in the Play Store today for $229, in 12 countries including United States, Canada, UK, France, Germany, Italy, Spain, South Korea and Japan. Pre-orders will start shipping on July 7. It will also be available soon after at retailers in 27 more markets, including Australia, Brazil, Mexico, New Zealand, Singapore and Russia.
The Samsung Gear Live is available to order through the Google Play Store for a cheaper $199.99. It will be sold in Samsung retail outlets around the world at a later point.
Conclusion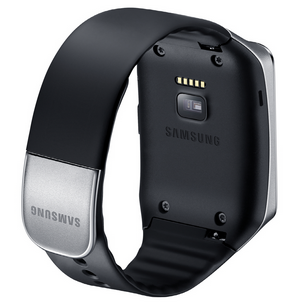 The Gear Live has a heart-rate sensor
We have three watches - so which one's the best? The core software and hardware experiences are the same between them (assuming the Moto 360 runs on the same Qualcomm chipset), thus choosing a winner is mostly a matter of design and comfort. Even then, it's impossible to elect a winner.
Right now, Android Wear looks and feels exactly how Google made it, and it's all about its apps and services. But this will change. Although the Gear Live ships with completely 'stock' software, the only addition being five custom watch-faces, wearable manufacturers will be looking to differentiate their products with more proprietary functionality. They will become even more distinct if Google ever allows its Android Wear partners to apply custom user interfaces – which is a "no-go" for now.
What we're confident about is that the smart-watch is officially a matter of fact. Out of the first crop of Android Wear smart-watches, the Moto 360 has a realistic chance to land some popularity as a luxury watch, while the other two need an injection of personality to overcome their "smartphone companion" feel.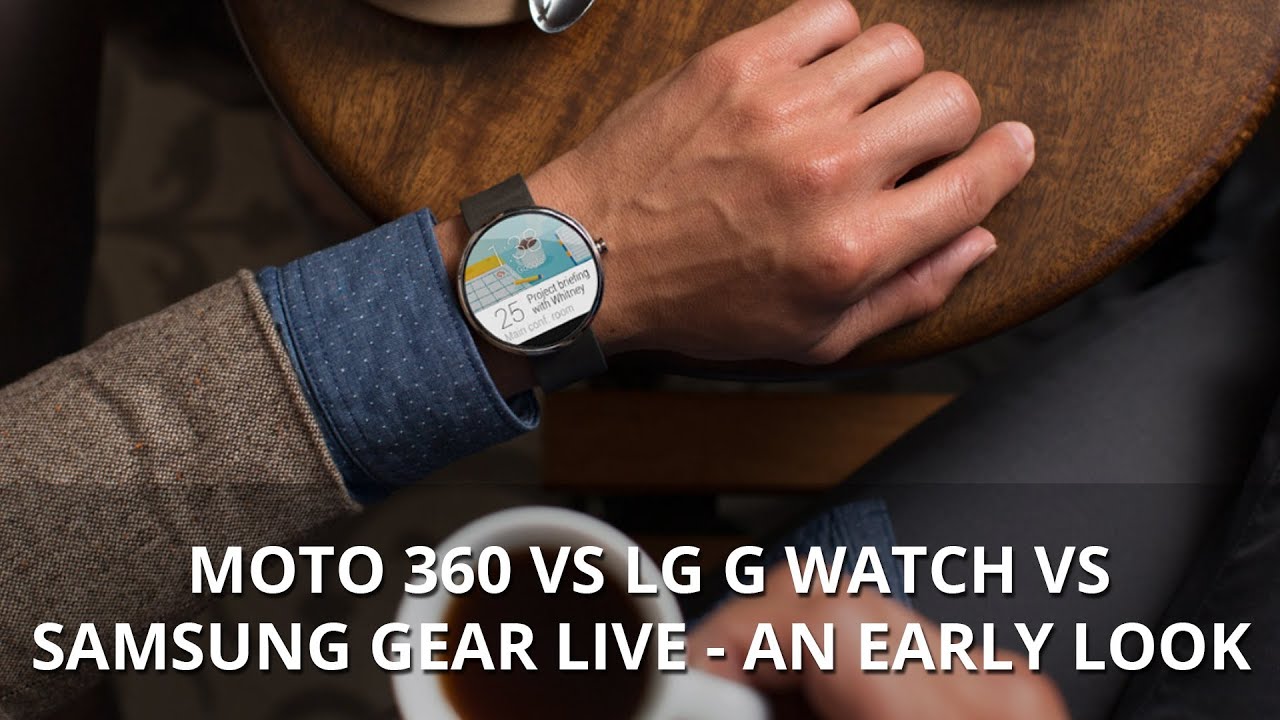 Recommended Stories