Moto 360 gets a bug fix update
3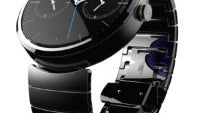 There have been a couple of Android Wear devices that have already pushed out to the few Android smartwatches that are on the market right now, but there haven't really been many device-specific updates for the various smartwatches out there. But, Motorola's Moto 360 appears to be getting one right now.
Motorola has confirmed that there is a software update that brings the Moto 360 to Android Wear build KGW42R. Both the LG G Watch and Samsung Gear Live are running build KGW42Q, so this is a slight difference, but it is unclear if it is only for the 360 or not. Motorola lists the following items in the change log:
Bluetooth connectivity - Improved Bluetooth connectivity between the watch and phone to reduce momentary disconnects experienced by some users.
Charging notification - Added a message to confirm that Moto 360 is charging in cases when its battery is fully depleted.
Bug fixes - Implemented bug fixes and other system optimizations.
Not the biggest update, but very nice fixes nonetheless. The update is said to be rolling out in phases, so if you don't see it yet, there is no way to force it to show up. You'll just have to wait until it comes to your device.