Morgan Stanley: HTC to snap out of its 2012 hangover in Q4, buoyed by the Droid DNA and China
19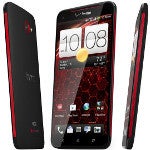 Hot on the heels of the
encouraging November report by HTC
, which saw the revenue jump more than 20% month-on-month, now comes the Morgan Stanley analysis that Q4 as a whole is looking decent for the embattled Taiwanese phone maker, too.
The investment bank analysts estimate that HTC is on track to hit its sales target numbers of 8 million handsets sold, buoyed by the introduction of the
Droid DNA
/
Butterfly
5" Full HD handset, which is found to be as popular as you'd expect with the first brand-name phone carrying a 440ppi density screen.
The brand's
HTC 8X Windows Phone
is also selling in fine numbers, the shop concludes, as well as its mid-range offerings for China: "
It's early to conclude that HTC can return to its peak, but good feedback on new devices, U.S. smartphone demand re-acceleration from the fourth quarter, and an expanding premium Chinese market bode well for its share trend and operating leverage.
"
The revenue target for HTC in Q4 is set at $2.06 billion, and if the company is slowly coming out of its repressed state in 2012, the next year should be also good for its share price.