More than 500 EcoATM machines that dispense cash for your old phone to be deployed by year-end
3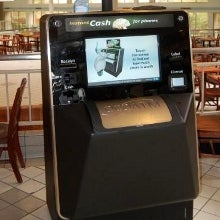 With all the goldbug craze about paper money being printed to oblivion, resulting in ATM-like machines that dispense gold coins and bullion, we thought nothing can surprise us in that respect anymore. Wrong, here come the new developments with the
EcoATM, that we checked out last year at the CTIA show
, where we took for you the video below.
The machine was demonstrated once again at the CES show last week, turning your old phones or MP3 players into cash. The news is that there are currently about 50 of them at malls and grocery stores in California, and the company plans to expand to the East with
more than 500 machines deployed by year-end
.
The process is not as magical as it sounds, of course - you have to hook it up first to one of the various diagnostic cables provided, then the machine grabs it in its steel paws, and takes a picture to examine the external condition it is in, but in the end you should get a bit of cash for your clunker. If it is a very old phone, you'll likely get almost nothing, but the machine will take it, and then it will go into an electronics recycling plant.
Beats dealing with the hassles of eBay, Craigslist and the like, but the prices that the automated system returns, are based on scouring hundreds of databases from similar recycling services. The founder of EcoATM, Bill Bowles, demonstrated his invention with a Verizon iPhone 4, and the machine quoted him $221 for the condition it was in.
Having those in malls around the country might beat driving around to find the nearest electronics recycling depot, or a carrier store willing to take your ancient gizmo. Recycling or reselling services usually pay less than what you'd get for dealing with eBay or Craigslist, but caring about the environment - priceless.
via
USAToday