EcoATM turns your old phone into cash with its self-service option
2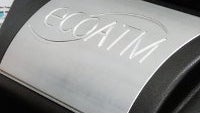 Let's face it, we all know how much of a hassle it is to try and organize all of our loose change to deposit them for some cool and crisp bills at the bank, but some of us simply hate plopping down all of that unorganized money at the teller counter. Well, that's where Coinstar comes to mind as it offers a simple and hassle free experience. Thankfully for the rest of us, someone has concocted a similar idea when it comes to getting money for used and old cell phones that are literally lying around collecting dust.
During a stroll through CTIA E&A 2011 in San Diego, we came upon this ATM sized contraption that gobbles up your old cell phone, and then dispenses money according to its value and condition. Dubbed as the
EcoATM
, it's literally the Coinstar for cell phones as it accepts your old phone and pays you out in actual cash – all in a quick and easy transaction.
Essentially, customers place their old device into the compartment, where it'll attempt to automatically identify device. Of course, in the event it's unable to do it on its own, you can always manually select it from its database. During the scanning, it verifies the condition of the device, and if it's able to power on, it'll attempt to run a diagnostic to further determine its worth.
When all of that is done, it'll spit out a final value that you can cash out right through the EcoATM – plus, you can even donate some of your money to select charities. Once you've made the decision, it'll dispense your money. All in all, the process can take as little as 5 minutes. Needless to say, it's an alternative offering versus those mail-in services we see being advertised on TV. Currently, it's still being tested out in limited markets, but don't be surprised to see these babies start popping up at local malls or shopping locations throughout the country.