More pictures of the international version Sony Xperia Z1s leak out ahead of launch
11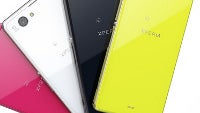 The wait for the mini version of the Xperia Z1 may soon be over in
some parts of the globe
, but for the majority of would-be buyers, it remains out of reach. Judging by the sheer amount of leaks that have been making the rounds on the web these past few weeks, however, this is likely to change sooner rather than later. We still don't have an exact date for the Xperia Z1s (Xperia Z1 f in Japan), but it feels like we know just about every detail there it to know, and we now have even more in the way of the exact looks of the devices.
Of course, as some of you likely know, the Xperia Z1s is simply a scaled-down Z1, though it does retain most everything else from the specs list of its bigger brother. Said otherwise, save for the smaller, less detailed 4.3-inch 720p screen, the Z1s still sports the beastly Snapdragon 800, 2GB of RAM and that epic 20.7-megapixel camera on its back. These are quite the specs, and we're fairly sure there hasn't been any other case when a Snapdragon 800 has had to push as little pixels, meaning that performance will likely be off the charts. Sony's Xperia Z1s is, therefore, in stark contrast to other mini version of popular flagships that have cropped up recently, as those have, without exception, crept up sporting far lesser specs than their originators.
But let's talk pictures. As is plainly obvious, the Z1s really is a scaled-down Z1, and it really looks near-identical, save for the more frugal proportions. This is both good and both, as while it features that premium-looking industrial design, its rather large bezels are equally as unattractive.Unlike the Japanese DoCoMo version, the international Z1s will have that Sony branding at the front, and this is exactly how we're to differentiate between the two otherwise identical handsets.