More images of TouchWiz's upcoming Themes app spotted
22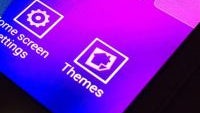 For over a week now we've been hearing about a possible introduction of separate, customized themes with Samsung's skinned TouchWiz Android. So what do we have today? Well, it's yet another seeming confirmation that Samsung is, indeed, serious about offering its customers even more customization than it already does. We now get to see how the Themes option figures into the homescreen-editing menu and within the Settings, and, of course, a quick peek at what will likely be the five built-in choices – Samsung Basic, Natural, Craft, Classic, and Sweet.
Now, Samsung offering themes with TouchWiz is quite interesting, seeing as these are something of a specialty with Chinese OEMs – the same folks that Samsung is intent on competing with in their own backyard. Whether the South Korean electronics giant will be offering even more choices than those five – perhaps with a dedicated section within its app store – remains unclear.
Considering the rapidly increasing number of seemingly-independent leaks pointing towards the same, it's probably about time we did away with skepticism and agreed that themes are coming to TouchWiz, and sooner than we initially thought.