More evidence of front-facing camera support in WP7 Mango
6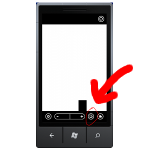 Given the boom of front-facing cameras and their paired video chat software like FaceTime, Skype, GTalk, and Qik, it seems inevitable that Microsoft would want to get in on the trend as soon as possible. Unfortunately, there has been no official word that the next version of WP7, Mango, would support front-facing cameras. Luckily, we don't need official word, when we have leaks from the Mango dev tools.
Of course, the first images of the
Nokia Sea Ray
, which is said to be the first phone running Mango, don't show a front-facing camera. And, given how Microsoft has mandated specific features on handsets so far, it seems likely that if front-facing cameras were to be fully supported in Mango that Microsoft would mandate that all handsets have front-facing cameras. There is still plenty of time for Nokia to add a front camera to the Sea Ray, but right now it still leaves a little bit of doubt as to whether we'll see front-facing camera support in Mango, or if we'll have to wait until Tango.