More details about Android Market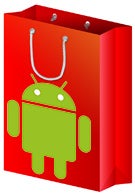 When somebody enters a store, he/she perfectly knows that nothing there is for free (except for the advertising leaflets and everything that could be stolen). At Android Market, the situation is slightly different as there you can still find free applications. When it comes to the paid ones, several rules are applied. In this article, we will inform you about them.
The most important thing to be mentioned is that you can use a certain program for a trial period of 24 hours and if you don't like it, you will get your money back. If you miss this deadline you will have to ask for your rights (and money) directly from the developer. Besides, the re-installation of the purchased applications is completely free of charge, so you don't need to worry in case, for example, you must restore the default phone settings and lose all your data. Their upgrades, tough, will not be distributed through Android Market and Google will not deal with any complaints of bugs or requests for adding new features. A detail that some of you may not like, comes next – at Android Market, there won't be any available pornographic materials. To keep the score even, you can find plenty of them for free in the Internet and they generate the highest demand in Google.
source:
androinica