More confirmation that indirect channels are getting the Motorola DEVOUR first
This article contains unofficial information.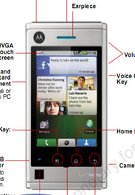 Sometimes it may be a bit difficult to fathom how
indirect channels
get treated to handset launches first way before Verizon's own carrier stores see a shipment. Whichever way you want to look at the whole situation, it's still nice to see a handset debut – especially when it's been advertised during the
Super Bowl
. One of BGR's contacts was able to provide them some launch documents for the upcoming Motorola DEVOUR which is expected to be launched through indirect channels via authorized distributors. So that means you can wait at select local Verizon authorized dealer locations on February 25 to snatch up your very own Android handset. If you prefer dealing with Verizon directly, also avoiding any problems that may arise from third party dealers, you can expect to see the DEVOUR in Verizon stores starting March 15. Apparently all the leaks surrounding the handset has gotten word to Big Red and they removed pricing details from all the launch documents. Luckily though, sources have told BGR that Verizon is aiming at the $99 price point when it's launched – seems pretty competitive with its QWERTY keyboard offering.
Motorola DEVOUR Specifications
source:
BGR