Mophie intros the Space Pack iPhone case: double your battery life... and storage!
16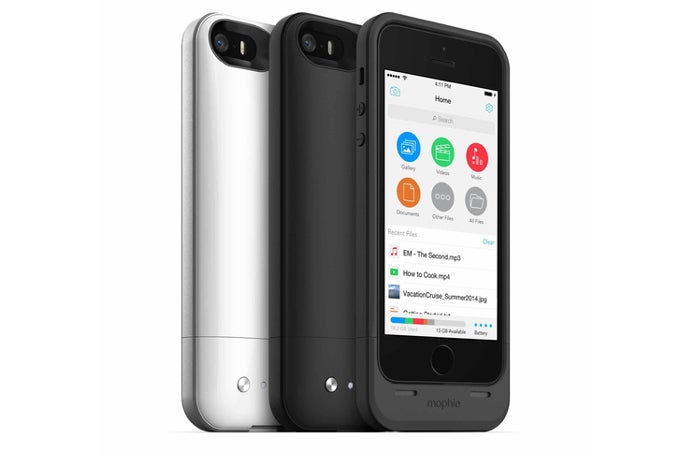 The Mophie Space Pack case for the iPhone was just announced at CES 2014 in Las Vegas, and it is one of those ideas that have you slap yourself on the forehead after exclaiming "Brilliant!".
Besides the typical for the
Mophie Juice Pack
series 1700 mAh embedded battery pack that doubles the battery life of your phone, in addition to protecting it from the daily wear and tear, the Space Pack also supplements the default storage amount of your
iPhone 5
or
5s
with your choice of 16 GB or 32 GB of internal memory more.
This storage can be accessed via the dedicated Mophie iOS Space app, so you can load the case with more music, videos or files to use on the go, or free up the iPhone's own storage for, say, more video footage during your vacation. The app lets you organize your content into categories for easier search and navigation, and also supports AirPlay and AirDrop, letting you send or stream the media files to another user or device, like an Apple TV, for instance.
"
We wanted to create a product that enables iPhone users to truly enhance their experience by solving some of the core limitations of smartphones
," clarified Daniel Huang, the Mophie CEO. "
With an iPhone case that provides the charging solution and low-profile protective design expected from Mophie, we've taken the next step and developed an entirely new category, pushing the increasing trend toward mobile computing even further
."
The 16 GB Mophie Space Pack version will go for $149.95 when it launches about two months from now, while the 32 GB will run you $179.95. Not cheap, but considering the Mophie build quality, and the fact that each storage upgrade costs at least a Benjamin with Apple, and a decent battery case will run you at least $80, the convenience of a Space Pack might seem like a bargain... or not. What do you think?