Monsters from Asia: the THL 5000 with its gargantuan, 5000 mAh battery
23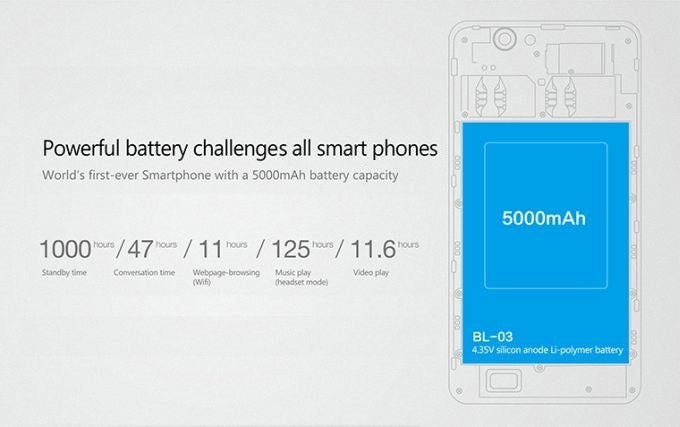 A fortnight has, once again, gone by, and it's time we dropped whatever we were doing, and gazed eastward. In this edition of our Monsters from Asia series, we'll be taking a look at a device that may not necessarily sport the most impressive hardware currently available on the market, but it certainly excels in one certain regard: battery life.

Say hello to the THL 5000, a phone that packs a gargantuan, 5000 mAh cell in an extremely compact (all things considered), 8.9 mm thin body. Yes, you read that right, that's 5,000 mAh -- a capacity worthy of even a large-sized tablet. Indeed, battery life has shot up to the top of the food chain as of late, and that makes a whole lot of sense, seeing how even hardware for the low-to-mid tier has become capable enough to drive Android and pretty much each and every app it has to offer. But what makes the THL 5000 even more enticing is its well-rounded specs sheet that leaves very little to desire.
Starting off with the display, the 5000 has a now standard 5-inch, 1080 x 1920 pixel resolution IPS dispaly with Gorilla Glass 3 on top for protection. The device is powered by a true octa-core MediaTek MT6592 chipset, running at 1.7GHz, and making use of a very potent, quad-core Mali 450 GPU, clocked at 700 MHz (yes, 3D games run more than fine on it). There's also 2GB of RAM coupled with healthy 32GB of (expandable) on-board storage. The THL 5000 doesn't drop the ball in terms of imaging, either, as it has a 13-megapixel Sony Exmor RS sensor (IMX135) with super-wide, f/1.8 lens at the rear, and a 5-megapixel snapper up front. In terms of extras, you also get an NXP audio amplifier for a better and richer audio output, NFC, Bluetooth 4.0, GPS, FM Radio, OTG, and a wide array of gestures support, including double-tap-to-wake-up functionality, customizable quick shortcuts (e.g. draw a "c" to fire the camera when the screen is locked), and others. Unfortunately, there's no LTE here, but you do get HSDPA+ speeds of up to 42.2 Mbps.
Going back to the highlight of the THL 5000 -- its 5,000 mAh Li-Ion cell -- the unit is made by US-based start-up Amprius, and allows for such a small physical footprint due to proprietary tech that allows some 25% to 30% increase in capacity without a subsequent increase in size. What's more, the THL 5000 supports Quick Charging (though exact figures are not provided as of yet), and can even be used to charge other devices. According to figures provided by THL (which honestly sound a bit frugal), the unit is good for up to 1,000 hours of standby time, 47 hours of talk time, 11 hours of web browsing over Wi-Fi, 125 hours of music playback, and 11.6 hours of video playback. Now that's what you call endurance.
Unfortunately, the THL 5000 is still a few short days away from mass commercialization, and most wholesalers have it up for pre-order. That said, the approximate sum you'll be expected to dole out should the THL 5000 catch your fancy, circles around $299. Not at all bad for what you get in return!