Mock screenshots provide a retro glimpse of Angry Birds in the 90s
3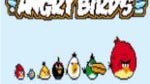 Rovio's Angry Birds app has somewhat become a worldwide phenomenon which to this day, still continues to keep players glued to their handsets ever so intently. Combining some intriguing game-play and animated visuals, it's no wonder why so many people continue to have fun playing it.
However, one would have to only imagine how things would play out if Angry Birds were released back during the 16-bit era of the 1990s. Well, there are a few mock screenshots that provide us all a small glimpse of what Angry Birds would have looked like back then. Naturally, the core elements are still going to be there, but the slick looking visuals are replaced with pixelated loving characters.
Aside from the visuals, we'd imagine that its pricing would be drastically different as well – we'd surmise a price tag of at least $50 if it were released during the 16-bit heyday.
via
IntoMobile