Mobile devices an intricate part of retail shopping for most
2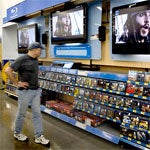 Everybody likes getting a good deal and nobody likes going home after a purchase only to find out that a store down the street had the same item for a few bucks cheaper. This common view of the retail shopping experience has made mobile devices a intricate part of the retail shopping experience for most customers.
Verve Wireless, a U.S. mobile adverting company, released the results of a study it had conducted across the 1,300 mobile publishers that use its advertising platform. The result show that customers and their smartphones are more unified that ever.
A few key points from the results are:
Over 60%

of respondents use their smartphone for shopping one or more times each month
Consumers use their smartphone to look up information on

price

(48%), followed by

product information

(24%),

reviews

(14%) and where to buy (14%)
81% of smartphone users have purchased a product or service online or in store after seeking information on their mobile device
The top 3 product categories shopped for on smartphones are

electronics

(51%),

entertainment

(50%),

books

(45%), closely followed by clothing (38%) and automotive (21%)
The top three retailers users accessed on their mobile device (tablet and smartphone) are

Amazon

(63%),

eBay

(37%), and

Target

(35%)
This study shows that now, more than, ever it is essential that retailers harness the power of mobile technologies when putting together an advertising plan. Greg Hallinan, Chief Marketing Officer of Verve Wireless, said, "
There is a growing demographic of consumers who rely on their mobile device to help them make decisions in the aisles of brick-and-mortar stores as well as while shopping online. The advertiser who meets them there will win the sale.
"
source:
Verve Wireless
via PR
Newswire