Mobile advertising is now the fastest marketing category
6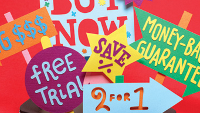 It might already seem apparent to those of you constantly inundated with mobile ads on your phone, but for those of you not getting bombarded with marketing messages, mobile ads are the fastest growing category of advertising. These marketing missives, which include in-app, search and display ads, are growing six times faster than ads found on your typical desktop computer. And unlike other categories of ad spending, mobile is the first in a long time that actually increases the total dollar amount of money spent on marketing. Other areas of ad spending would expand at times, but at the expense of spending in another category.
Because of the rising penetration of smartphones globally, mobile ads should expand at a 50% rate from 2013 through 2016. That might be good news for those who make a living in the process of producing them, or selling the mobile space they land on. But the average smartphone user doesn't appreciate his phone becoming a billboard.
The fastest growing part of the mobile ad category is in-app ads. These ads contributed $3.5 billion to the amount of money spent on mobile advertising last year, and is forecast to total $17 billion by 2018 by research firm StartApp. You better get used to seeing mobile ads on your smartphone's display, because more are on the way.
source:
ZenithOptimedia
,
Econsultancy
via
FierceMobile