Mobile DRAM may become mainstream in smartphones in 2014
12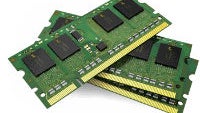 So far, the trend in mobile devices has simply been to put more and more RAM into devices. But, you knew that eventually manufacturers would move away from that trend a bit and move towards simply using better RAM. At least that's the theory coming from DRAMeXchange, which is claiming that 2014 will be the year of mobile DRAM.
So far, mobile devices have been using DRAM that is built and optimized for PCs, not mobile devices, meaning more power efficiency in mobile devices. Obviously, when designing hardware components for PCs, there isn't as much of a worry about power efficiency, because PCs are always plugged in, but power is always a big consideration in mobile.
The expectation is that LPDDR3 will replace LPDDR2 as the mainstream product in mobile devices, which will be great for users because LPDDR3 drops the power usage of the RAM from 2.5V to 1.8V. Looking even farther down the road, LPDDR4 is expected to see limited release in 2015, and become the mainstream option in 2016.