Mobiado dresses the Nexus S in gold, names it the Grand Touch
2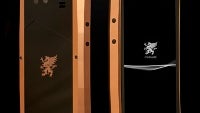 Luxury phone outfitter Mobiado is a brand reserved for those swimming in cash and juggling with gold bars, but even they need to catch up with technology. And while other rivals like Tag Heuer and Ulysse Nardin mostly focus on the bling side of things, Mobiado aims at relatively contemporary hardware as well bringing Android Gingerbread in a gold or airplane aluminum-clad
Google Nexus S
. The armored Gingerbread warrior goes by the grandiose name of
Grand Touch
.
While it carries the signature elements of the Nexus S like the curved concave screen, the outside visuals have went through a major overhaul. Actually, there are two versions of the handset - one with CNC-machined brass body adorned with
24-carat gold
and the other with CNC-machined
aircraft aluminum
. On the back, two stunning pieces of sapphire crystal come together at an angle and the battery cover is made of the same material.
Just like the original Nexus S
, the screen here is 4 inches in size and 480 x 800 pixels in resolution, but it's changed the technology now sporting Super LCD instead of the Super AMOLED on the original handset. Under the hood, the same internals including the 1GHz chip, 512MB of RAM and 16 gigs of internal storage run the Gingerbread show. On the back, the 5 megapixel camera is the same one as on the Nexus S which is a good thing as you liked it best in our latest outdoor test.
The Grand Touch is sold unlocked in a variety of colors.
The price?
Not yet disclosed, but the rule of thumb here is that if you ask – you can't afford it. Ogle for free, though, we can.
source:
Mobiado