Microsoft's new app for iOS helps you with your celebrity worship
16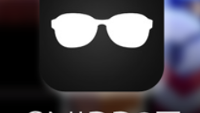 https://www.phonearena.com/Available in the Apple App Store only, is a new app from Microsoft called SNIPP3T. The app collects all of the web based news about any celebrities you choose. Fan of, oh, Ashton Kutcher? How about Katy Perry or Michael Cera. All you need to do is type in the name of those celebrities that you are interested in, and the app tracks down the latest headlines (good or bad) and sends them to you.
Tap any of the headlines to read a full story. You will also be able to view mentions of your favorite celebrities on social media. And the best part is, you can share your Justin Bieber obsession with other fans.
SNIPP3T is a free app to download, and hopefully will make its way to other platforms. It does boggle the mind a little that Microsoft developers wouldn't write this for Windows Phone at first. Unless, of course, Microsoft is making a social comment about the things that Apple iPhone and Apple iPad users care about.
If TMZ is your first read of the day on your iOS device, and you live vicariously through those rich and shallow people we call celebrities, SNIPP3T probably deserves a spot on your phone or tablet.
source: SNIPP3T via RedmondPie