Microsoft's latest ad shows why the Surface Pro 3 is the world's most productive tablet
30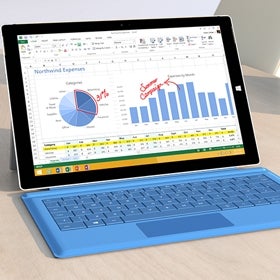 As you've surely heard, Apple today announced the
iPad Air 2
and the
iPad mini 3
, presenting the former as the world's thinnest tablet (only 6.1 mm). Well, Microsoft doesn't want Apple to get all the attention today. Thus, it released a new ad which informs us that its
Surface Pro 3
is the world's most productive tablet.
Obviously, Microsoft also tells us why its tablet is the best choice for productivity, showcasing some of its features: 12-inch display with 2160 x 1440 pixels, Surface Pen, multi-position Kickstand, full Microsoft Office, microSD card support, USB 3.0 port, attachable keyboard, and so on.
Of course, at 12 inches, the Surface Pro 3 isn't really a tablet that's competing with the iPad. Microsoft is actually referring to the Surface as a laptop replacer (often comparing it to Apple's Mackbook Air). Even so, Microsoft's new video is trying to make a point: while the iPad is the most popular tablet in the world, folks who need a slate for productivity should rely on a Surface Pro.
Earlier this month, Microsoft confirmed that
a new Surface Pro
will be released in the future, though it's not clear exactly when it's going to happen.
via:
WP Central