Microsoft to sink Windows Mobile 6.x support on July 15th
11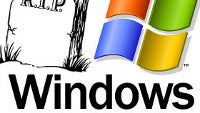 As news around the Windows Phone Mango update erupted and kept a steady flow this week, slightly under the radar went Microsoft's official announcement about the death of Windows Mobile 6.x. The date for the inevitable
halt of all support is set for July 15th
, but that doesn't necessarily mean that you won't be able to download apps from the Marketplace. While certainly expected, the quick halt of support has angered some developers who pointed out that leaves virtually no motivation for users to download applications on their Windows Mobile 6.x devices.
Strangely enough, latest reports showed that handsets running the abandoned ship WM 6.x have outnumbered WP7 devices in terms of sales, so could the move be just a bit premature?
There has been no information on how long users will be able to purchase applications for the descending platform. Developers like Richard Foster from software house Edgeway, however, points out: "I am expecting the marketplace to be taken down sooner rather than later." As Microsoft will no longer accept applications after July 15th, it seems that developers will do best to jump ship if for some reason they haven't already done so. Check out Microsoft's statement below for all the details:
"App Submission and Management. On July 15, 2011, we will no longer be accepting new Windows Mobile 6.x applications or application updates. In addition, it will no longer be possible to modify prices, metadata, or other information. However, you will still be able to remove your apps by contacting support.
App Distribution. Even though app submission will stop on July 15, users will still be able to purchase and download your Windows Mobile 6.x applications through the Windows Marketplace for Mobile.
App Reporting. Sales and download reports will continue to be available for your Windows Mobile 6.x applications through the App Hub after July 15.
Developer Payouts. Developer payouts will continue to be processed in accordance with the provisions of the Windows Phone Marketplace Application Provider Agreement."
source:
FierceDeveloper