Microsoft to hold meeting about Windows Phone customization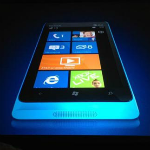 There has been a lot of talk recently about the possibility that Microsoft let manufacturers start to customize and differentiate the Windows Phone experience in order to create a more diverse and potentially successful platform. You know, like Android. At least that's the manufacturers' theory on the matter. We don't really see it as a necessary option. We think it's more a matter of
manufacturers wanting to promote themselves
rather than Microsoft's system.
Still, Microsoft is going to at least have the discussion with manufacturers about the issue. According to Netbooknews, Microsoft is going to have a meeting with Windows Phone OEMs and carrier partners soon, and "Customization and Differentiation options" is going to be one of the topics on the docket. The rest of the plans are all obviously Windows Phone 8 centric with topics giving an overview of Apollo, development capabilities, and release plans.
Of course, OEMs and carriers will keep pushing for customization, but we'll have to see how much Microsoft will allow if anything. We would still say that there's a little more time to see how Windows Phone develops before going down that road, especially given the potential risks.