Microsoft to consolidate KIN and Windows Phone 7 software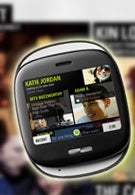 Okay, we know that although the new Microsoft toy for teens,
called KIN
, shares the same software core as Windows Phone 7, it actually relies on a completely closed interface with absolutely no option for installation of third-party applications and games, but is it meant to stay this way? Not according to Microsoft GM Matt Bencke, who has said that the platforms will "share more and more in terms of code." This automatically means that the KIN might, with time, become a much more appealing handset, as Redmond starts pushing those OTA updates. But when would that happen remains a mystery for now.
And even if the KIN ONE and TWO get a little bit more open over time, we wouldn't really hope for some solid app support for them. As it is a common practice nowadays, these devices might have reached their end of life by the time Microsoft is ready with their updates, so extensive enough app catalog and gaming experience might end up being features of the KIN THREE and FOUR, rather than these first two devices that will be ready to see the light of day in a month with Verizon.
Microsoft KIN ONE Specifications
Microsoft KIN TWO Specifications
source:
Engadget