Microsoft sweetens the money pot for Windows 8 and Windows Phone developers
5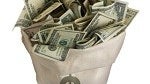 App developers of Windows 8 and Windows Phone 8 platforms have an opportunity to pocket some cash for their efforts before a single download of their apps are even executed.
The Windows Store has a health catalog of applications, but we can all agree there is room for more. Microsoft has a warm and cold developer situation when it comes to developers. The company's flagship operating system by-and-large enjoys unrivaled application selection.
The Windows RT and Windows Phone platform do not have such a comfortable position. Even Windows 8 seems to have hit a bit of a barrier for apps related to the "Start Screen" that has dramatically changed the user experience. Microsoft is exploring all options to generate developer interest in the new platform.
There is an old saying, "Money talks," and Microsoft is going to show devs the money when they successfully publish an app through the company's "Keep the Cash" promotion. Developers can get
$100 for each app
that makes it to the Windows Store. The limit is 10 apps per store, so a developer can
earn $1,000
for 10 Windows 8 apps, and
another $1,000
for 10 Windows Phone 8 apps.
Developers certainly spend more time than what $100 would buy building their applications, but getting something on the front end before users even download the finished product is a pretty nice incentive.
Is there fine print? You bet there is! Obviously a modification of an existing app is not eligible for the promotion, neither is a simple app that just launches a web-page. Applications must "have a distinct and substantial content and purpose, including functionality." Developers get $100 in the form of a Virtual Visa which expires 6 months after it is issued. Of course, it counts as taxable income, so hopefully you developers make some money for your efforts.
The promotion will continue through June 30, 2013 or until 10,000 qualified applications are published to Windows Store. Is it an act of desperation or a simple reality of what the company thinks it needs to do to compete with BlackBerry? We do not think so, since the total payout for this promotion is only $1 million - petty cash for a company like Microsoft.
Whether this approach will work or not, we will have to see. It would be difficult to shake the appearance of a plea for developers to build applications with a promotion like this if more money were involved. A more subtle way might have been for the company to allow developers to keep 100% of their revenues from an app for a period of time before fees to Microsoft would begin getting collected. That is potentially worth a lot more than $100 to a developer and the outlay cost to Microsoft is not direct.
We will see soon enough if this adds a noteworthy group of additions to the Windows environment.
sources:
Microsoft
via
The Verge