Microsoft shows how it optimized Office for touch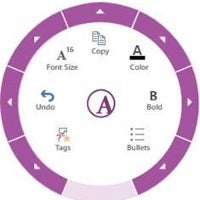 Microsoft recently confirmed that its Office package (sans Outlook) is coming bundled with Windows 8 RT tablets, but that wouldn't mean much if it wasn't optimized to work with touch. Luckily, Office for Windows 8 RT is tailor-made for your fingers and taps, and it seems that it cost a lot of effort for Microsoft as the company gives us a 4,000-word explanation on how it changed its office package.
For us, what really matters is how it works, so in a nutshell what Microsoft did was tweak the appearance so that there are
less, but bigger buttons
. The ribbon is still there but again with less and larger buttons. When it comes to those option-stuffed contextual menus, like say the color picker, they are still there but now with more space and again larger.
Dragging items is made easier with guidelines so images snap easier where you want them to. Also, text selection which is extremely precise with the mouse and keyboard, is changed for tapping.
Probably most interesting, is the way Microsoft changed commands. You now have a small strip with most common commands that just pops up when you select text or images. The new touch-optimized Office also brings radial menus for quick access to functions. Check out the videos below and let us know what you think - is Office that big of a deal nowadays and could it help Windows 8 and Windows Phone 8 sales?
source:
Office Next