Microsoft readying complete redesign of Skype for iPhone, here are some of the changes
1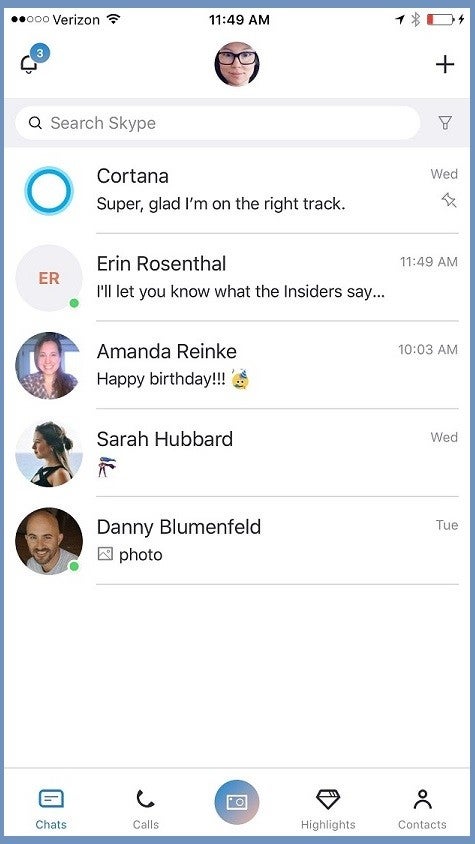 A new version of Skype for iPhone is in the works at Microsoft's labs. After introducing a new UI design early this year, the Skype team has taken all feedback to heart and is now trying to refine what's been released many months ago.
For the time being, the new version of Skype for iPhone is available as a preview, which means some features might not yet work as intended. The good news is we know what to expect from the upcoming update, which we expect to arrive in the not so distant future.
You can find below some of the most important changes confirmed by developers, but there are many others that are more subtle to notice at first glance:
We brought back the navigation bar which will include an easy way to access the most important; functionalities of the app – chats, calls, capture, highlights, and contacts;
We added numeric badges in the navigation bar for chats, calls, and highlights;
Your selected color directly affects the navigation bar;
We separated the notification screen which can be accessed by tapping the bell icon on the chats, calls, highlights, and contacts screens;
Tapping your avatar on the top bar opens your profile directly;
Settings can be found in the profile screen on the top right;
We reduced the size of the search bar to increase the number of messages you can see at once.
Besides the changes above, the update should also introduce some improvements to the chat screen and message composer, such as reduced size for chat headers to allow a higher number of messages that users can see.
Also, chat headers will have presence indicators, while the emoticons and emojis have been combined for easier access. Finally, the compose bar has been redesigned and there's a new plus button on the bottom left that allows users to add things to their chat like photos, location, money, as well as any of the add-ins available.