Microsoft's popularity rises among younger generation
33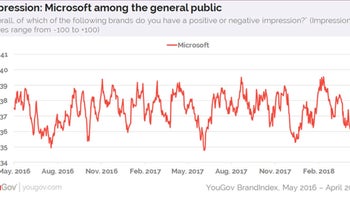 YouGov constantly monitors something called a BrandIndex. This sort of survey interviews thousands of consumers every day to track how popular a brand is not just over long periods of time but over weeks and days as well. The company's new numbers show popularity for Microsoft has reached a two year high. This is especially true for consumers between the ages of 18 and 35. This age group has scored the tech giant a 44. The next highest age group gave Microsoft a 39. A score of 44 is worlds away from this time last year, where the company had fallen just below 35. The fondness of Microsoft in this age range may seem to be the opposite of what many may think. When people think of the younger generation, they mostly think of iPads and iPhones and other more trendy brands. The numbers here show an increasing number of young people are learning to appreciate the software and devices Microsoft is bringing to the table.


Why are younger people warming up to Microsoft?
Chances are it is not because of
Windows Phone
. The graph shows a sharp increase in the last two months. Some contribute this to two major events recently. The release of the Windows Spring Creator's update (Redstone 4), and the major reorganization over at Microsoft. This seems a little less intuitive though when you consider how many devices are on the Spring update so far, and how many average consumers even know Microsoft is changing its hierarchy. There are some other factors which may be more applicable to the rise in popularity, such as Microsoft presenting some of its best products across platforms and what people in this age group are doing daily.
Microsoft has put a lot of effort into making its software and best features not just available, but working very well across all platforms. IOS and
Android
devices have a lot of options from Microsoft, and with Microsoft's focus on the cloud, these apps sync better than many of their counterparts. This also introduces a lot of consumers who are phone or tablet-focused to Microsoft, where before they had little use or interaction with anything the company makes. There may be an argument in there somewhere for the popularity of Surface products, but the numbers fluctuate too much throughout the period for that to be taken seriously.
Finally, you have to look at what this age group is doing. The first half includes a lot of college
students
. This means people are using technology. They are using Word, Powerpoint, OneNote, and Excel. Their work is being stored and shared via the cloud. Whether you are in the classroom, or a virtual classroom this applies across the board. Sure, there are other suites that compete such as Google Docs, but the numbers show most schools use Office 365. Many colleges provide this free of charge to the students and this means these younger people are using Microsoft software daily. The second half is entering the workforce and they are using computers. The majority of them are using Windows and other Microsoft software every day on the job. The older generations may not have had these experiences in the past and so they are less likely to embrace it. But Microsoft has improved Windows as well as its other programs and the people who are using it day in and day out are responding positively. Overall, it is probably the huge push across platforms that is giving the company a boost. Consumers like when their stuff works no matter what they are using and most do not like the turf battles that sometimes occur in different ecosystems. This makes Microsoft a very friendly company.