Microsoft may release its own phone "in the coming months"
58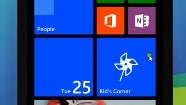 We
reported a rumor
to you yesterday that said that Microsoft may be looking to bring its own branded "Surface" smartphone to market by next summer, but according to BGR a "trusted source" relays that
Microsoft is much further along in developing their own smartphone
, indicating that Seattle giant is in the final stages of development for a launch "in the coming months". The phone is said to be designed to compete directly with high-end offerings like the iPhone 5 and Galaxy S3, although it will naturally end up competing with the Windows Phone handsets being shipped by Microsoft's OEM partners as well.
Another source disputed a Fall ship date, claiming that Microsoft will not be introducing their phone in the initial round of WP8 handsets (expected to start shipping in November) and that the phone will probably be withheld until after the holiday shopping season. Either way these sources seem to think a phone will ship long before next summer.
What are we to make of all these rumors? All three add credence to the rumors we heard over the summer that Microsoft was designing its own phone hardware, so
at this point it seems like there may be too much rumor smoke for there not to be a real fire
. Also, it squares with Microsoft's attitude it has adopted with tablets, where Microsoft is clearly willing to threaten its OEM partners in an attempt to ensure that cutting-edge hardware exists to run its software.
As for the timing, it's possible that these rumors aren't as far apart as they seem. It's easy to envision Microsoft quietly preparing a smartphone just as it made its Surface tablets in secrecy, being ready to announce them in they found the initial WP8 hardware to be lacking. So the phone is probably ready for a Fall launch, but they may have deemed the initial round of phones by Samsung, HTC, Nokia, and others to be good enough to not risk alienating them by launching their phone so soon. This will let Microsoft watch how WP8 sales play out over the holiday season before deciding on when (or if) they will wade into the smartphone fray with their own hardware offering.
To be honest
we think it would be very exciting to see Microsoft make a handset with the craftsmanship they showed off during their announcement of the Surface tablets
, but it would be a shame if the Windows Phone ecosystem lost much of its hardware variety if spurned OEMs fled to Android, or some new alternative like BB10 or Firefox OS. We imagine Microsoft is trying to balance that exact same set of concerns themselves…
source:
BGR