Microsoft justifies Surface Windows 8 Pro battery life and storage
38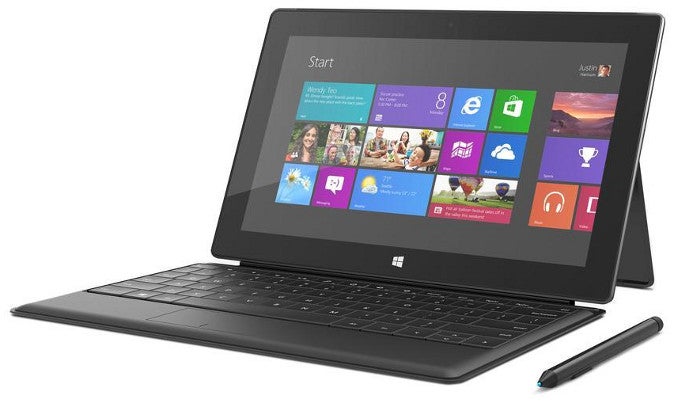 For those that saw what Microsoft's Surface RT had to offer and decided to wait patiently for the full Windows 8 version of the tablet, the news about the battery life and later on available storage of the tablets might have dampened ambitions for picking up one of the snazzy tablets.
The Surface with Windows
8 Pro
still has a lot of appealing features in its own right, plus it carries-over neatness of the Surface RT, like the kickstand, magnesium frame and relatively light weight. The Surface Pro has a higher definition display and an Intel i5 processor as well as more storage. That extra storage is certainly needed since Windows 8 Pro takes up a lot of space, about 40-ish GB, leaving about 23GB of native space on the 64GB Surface Pro and roughly 83GB off the 128GB tablet.
Having less usable storage than advertised is a given on just about every mobile device out there. From Apple to Samsung, we all know there is storage, and "available" storage, such as life. The Surface Windows 8 Pro is no different and there are some justifiable reasons as it relates to storage and battery life. First, we know that Windows 8 needs some real estate and second, a full third generation Intel CPU is going to require more energy than NVIDIA Tegra 3 found on the Surface RT. Microsoft knew this going into it too.
While doing an "Ask Me Anything" session on Reddit, Panos Panay, the head of Microsoft's Surface team, explained the rationale for both of these visible concerns that people have. The memory issue is simply a result of what was called a necessary move to have Windows 8 Pro on the tablet. The best option to gain more storage is to utilize the tablet's microSDXC slot, which can accommodate up to 64GB. Is it ideal? Arguably no, but we readily accommodate such circumstances on our smartphones and other tablets.
When it came to battery life and performance, Mr. Panay was far more detailed:
"The product was designed to take full advantage of Windows 8 coupled with the Ivy Bridge core processor from Intel. We created a product that did not compromise speed, performance in any way. With that, we wanted to be the best notebook/laptop product in its class, but still deliver you the tablet form factor. This product is optimized in every way to take advantage of the full third generation core i5 it runs, yet give the best battery life."

"If you compare it to say a MacBook Air, you will quickly see that pound for pound in battery size vs battery life, you will find optimizations that puts Surface best in its class. That said we picked a smaller battery to be sure we were able to give you the same performance and to keep it thin. This kept the weight under 2lbs, and still kept it thin enough to take advantage of our great Windows work for inking and give you a great inking experience (like pressure sensitive inking, ability to do kanji, great sketching)."
What do you think of the explanation? Does it dampen your excitement or desire to pick up a Surface Windows 8 Pro tablet?
It goes on sale February 9th
with the 64GB version starting at $899.
source:
BGR