Microsoft investors say Bill Gates should step down
27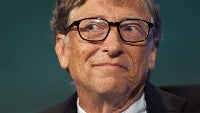 Microsoft is in need of a new CEO, and we recently heard from analysts that there is little hope that Microsoft will choose the leader that the company really needs, and will rather choose someone who will avoid risks and stay the current path. New comments from investors are making it sound like that problem could be the fault of Bill Gates himself. According to
Reuters
, three of the top twenty Microsoft investors are asking Bill Gates to step down from his position as chairman of the board.
Apparently there are a few different reasons for this. First of all, the investors are saying that Gates' presence alone is causing the company to avoid adopting new strategies, and is limiting the power of whomever is in the CEO position. Additionally, there are worries that Gates' other responsibilities with his various philanthropic endeavors are taking up too much of his time for him to be able to effectively be the chairman of the board.
There is no word on how likely it is that the rest of the board agrees with those three investors though. The three investors hold about five percent of the company's stock. Just as comparison, Bill Gates is the largest single stockholder and owns four and a half percent of the company. Gates had owned forty-nine percent of Microsoft when it first went public, but has been selling a predetermined amount each year. If he continues that plan, he will have no stock left by 2018.