Microsoft holds internal parade for Windows Phone 7 completion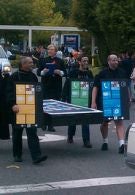 The Microsoft team held an internal event to celebrate their completion of the
Windows Phone 7
code. The new OS is due for release in its final form in New York on October 11th. The parade featured a dozen floats of different types, with some employees dressed as WP7 screens themselves.
Along with the celebratory parade floats were two hearses, dedicated to Apple's iPhone and to RIM's BlackBerry line. The brazen demonstration was symbolic of their high hopes for the new OS following years of
lackluster Windows Mobile
operating systems. It's too bad they didn't also feature a hearse for the KIN line, but those devices were surely mourned in their own way.
Despite their minimal current market share (6.8%) and doubts from potential manufacturers, the Microsoft team still seems very optimistic about their new offering. And they should be optimistic. With features like mobile Office and XBOX Live integration, Windows Phone 7 might well be a very logical and functional OS. The question now is whether they can compete with the momentum of the Apple iOS and Google Android operating systems.
source:
CNET
,
Photos by Trioculous