Microsoft believes the smartphone battle has just begun
52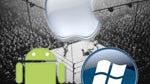 Eric Savitz, from Forbes, had the opportunity to sit down and talk with Microsoft Chief Research and Strategy Officer, Craig Mundie, about Microsoft's mobile strategy. Mundie firmly believes that the competition between smartphones is just beginning, particularly when viewed from a global perspective.
Mundie admits that in the mid-2000s Microsoft may have "
taken their eye off the ball
" in regards to mobile devices while it worked on security challenges and development cycles of its mainline products. He says that left a big opportunity for Apple to move in and capitalize on the market, but moving forward, Microsoft definitely believes mobile computing is an essential component to its future success.
Mundie states that the global penetration for smartphones is only 2% and the replacement cycle on smart phones is 1.5 to 2 years. The ability to spread into the rest of the global market coupled with the fairly quick recovery rate, when compared to PCs, makes him believe that the smartphone battle is just beginning.
He compares the current smartphone OS distribution models to the 3 models that occurred in the PC market. Apple obviously playing the role of Apple, Android taking the place of open-sourced Unix and Linux, and Microsoft using the managed model it used with PCs.
He says the key to success in the long run is brining different technology categories together and having them work in harmony. He believes Microsoft has the edge when it comes to bringing PCs, phones, tablets, TVs. and gaming consoles together in the cloud.
source:
Forbes