Microsoft and Nokia reportedly end merger negotiations
70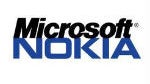 The word has been that Microsoft and Nokia have a partnership deal that could have Microsoft paying the Finnish company as much as $1 billion per year to build devices for the Windows Phone platform. But, a new report from
The Wall Street Journal
is saying that it had actually gone beyond that and the two companies were actually in "advanced" merger negotiations until just recently.
According to a source, the talks had been ongoing as recently as this month, but that they are officially dead now, and unlikely to continue. A Microsoft spokesman said that there is nothing out of the ordinary with the two companies meeting regularly, and neither confirmed nor denied the allegations. A
WSJ
source said that the two companies had been meeting in London, and were "close to an oral agreement" to merge the companies together.
There was no word as to why the supposed negotiations failed, nor why they would be unlikely to continue. Of course, had the merger happened, it wouldn't have been much of a surprise, but it certainly would have made some waves in the mobile world by officially combining Microsoft's software development with Nokia's expertise in hardware.