Microsoft Surface with Windows 8 Pro may have hit the FCC
31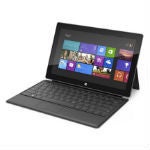 We know that the Microsoft Surface with Windows
8 Pro
has a crazy long official name, but we also know that the tablet is expected to be released next month. It looks like that release may be on track because a new device has hit the FCC, and it looks like it could be the Surface Pro.
We can't be 100% sure that the FCC filing is the Surface Pro, because there's nothing in the paperwork that really outs the device as the Surface Pro, but it seems like a solid bet. Microsoft isn't expected to release any other hardware any time soon, and the Surface Pro needs to get through the FCC if it wants to make the
January release
that Microsoft has set. The best clue we have is that the Model # for the filing is 1514, and the Model # for the Surface RT was 1516.
If the filing is for the Surface Pro, that's one more hurdle that the tablet will have passed on its way to store shelves, and customer hands.