Microsoft Surface Go vs Apple iPad: comparison
32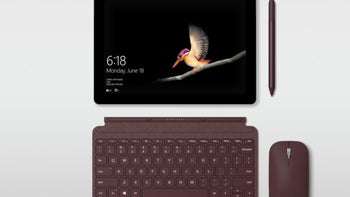 Microsoft has a new and affordable tablet in town: welcome the Microsoft Surface Go, a 10-inch tablet with the Windows experience on board, support for a pen, a neat adjustable hinge and a few other extras.
So... should you buy this new Surface? When faced with this question, most people will have to make the choice between the new Surface Go and the other big name in tablets: the Apple iPad.
In order to compare the new Surface Go to the iPad, let's first take a look at the families of Surface devices and iPads to understand which iPad should we compare it to.
Microsoft's lineup of Surface devices:
Surface Book: a 2-in-1 with detachable tablet mode, prices from $1,200
Surface Laptop: a traditional Windows laptop made by Microsoft, prices from $800
Surface Pro: a 12.3-inch tablet with attachable keyboard cover, support for Intel Core i series chips, prices from $800
Surface Go: a 10-inch tablet with a lower-power processor, but still running full Windows, prices from $400
iPad Pro 10.5" prices from $650
iPad Pro 12.9" from $800
iPad from $330
iPad mini 4 from $400
The specs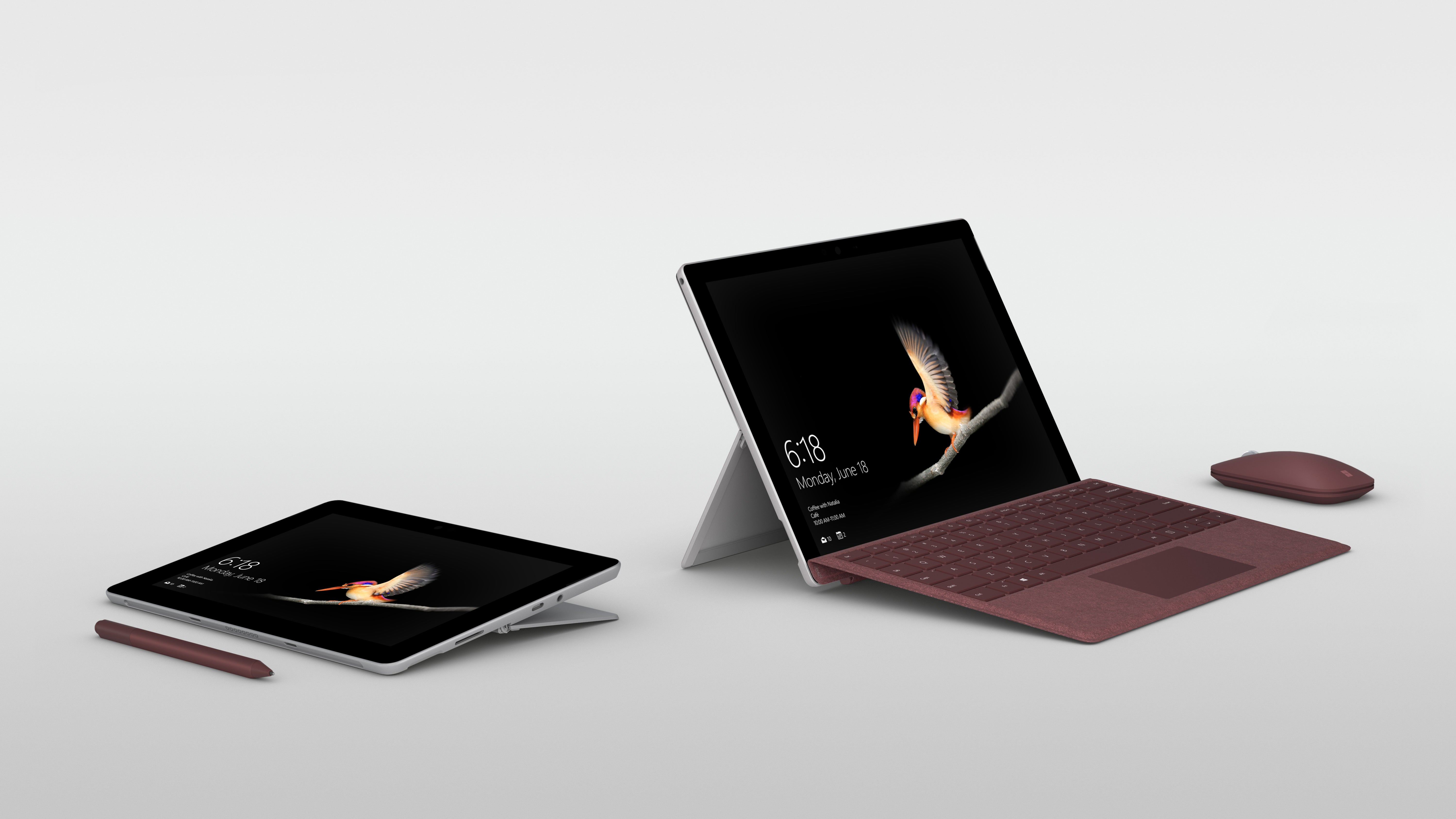 Microsoft Surface Go
Judging by price and size, it's clear that the new Surface Go is a direct competitor to the 9.7-inch 6th generation Apple iPad that retails for slightly less than Microsoft's tablet.
First, let's take a look at the difference in screen size and technology: the Surface Go sports a 10-inch PixelSense display with a 3:2 aspect ratio and a resolution of 1800 x 1200 pixels, while the iPad has a 9.7-inch screen with a 4:3 aspect ratio and a 1536 x 2048 pixel resolution. Both are two very sharp display, but you get a slightly sharper screen on the iPad.
Also, both tablets support pen input. The Go is compatible with the Surface Pen, allowing 4096 levels of pressure, and the iPad supports the Apple Pencil. The Go weighs 1.15 lbs, a little heavier than the iPad, but also about half a pound lighter than the beefier Surface Pro.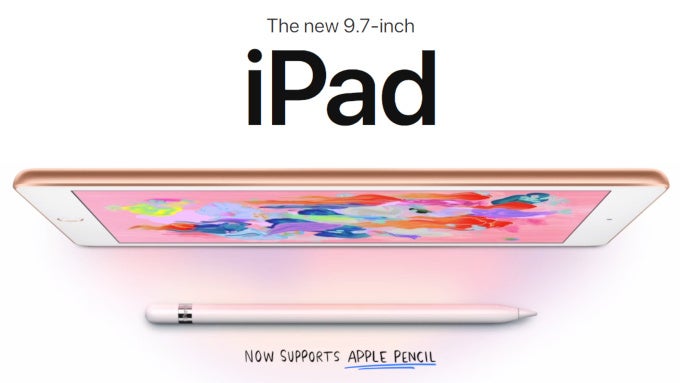 Apple 6th gen iPad
Under the hood, the Surface is powered by a 7th-Generation Intel Pentium Gold processor. This gold processor is the big question mark in the whole Surface Go idea as we are yet to see whether it will be powerful enough to drive demanding Windows applications. The iPad, on the other hand, runs on the Apple A10 Fusion chip.
You get two different storage options on the Microsoft tablet: a 64GB eMMC base model and a 128GB SSD version, while on the iPad you get to pick between a 32GB base version and a 128GB one.
In terms of battery life, the Surface Go official numbers are slightly lower than those of the iPad: the Go is said to last up to 9 hours on a single charge, while the iPad can last up to 10 hours.
The Experience
The Surface Go runs on Windows 10, while the iPad features the latest version of iOS, and that is a profound difference in the experience.
With the inclusion of an integrated kickstand for the surface and with the well thought out keyboard and mouse experience, the Surface is a much better productivity machine, a much more convenient laptop replacement than an iPad. The support for various desktop apps is another huge benefit for those who want to get things done on the go as iOS software might be lighter, but does not quite offer as much versatility.
But then there are a few features that make the Surface Go much more practical than any iPad: first, it supports a USB-C 3.1 port for fast and easy transfer of data, and secondly, it has a microSD card slot for memory expansion.
It all boils down to Windows 10 vs iOS
Summing it all up, the Surface is a bit bigger, heavier, bulkier, but still fairly light and supporting the full Windows experience, while the iPad is a thin, elegant, light gadget perfect for media consumption, but maybe just not quite as good for productivity.
Finally, we should note that the Surface Go is not currently offered with 4G LTE support and you can only get a Wi-Fi one, while iPads are offered in both styles. Microsoft has promised an LTE model will come later this year, though.
So... which one would you rather get?