Microsoft brings dark mode to OneDrive on iOS, other Office apps to follow
5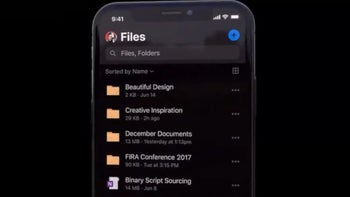 Microsoft promised not long ago that once Apple releases iOS 13, it will add a dark mode to many of its apps. Now that Apple's system-wide dark mode is making its way to all compatible iPhones, Microsoft
confirmed
OneDrive users on iOS now benefit from the previously announced feature.
If you haven't read our
previous report
regarding Microsoft's plans for its Office apps, we'll just let you know that OneDrive is just one of the many apps that the Redmond-based company plans to update with important visual changes, including a full-fledged dark theme.
The entire Office suite is expected to receive a dark mode that will feature the same color. It's meant to give these apps some uniformity while reducing eye strain and improving battery life. Three other Office apps are expected to receive a dark theme in the coming days – Word, Excel and PowerPoint, although exact release dates for these updates aren't available yet.
Meanwhile, another Microsoft app,
Outlook
has just received a small update on Android, which allows users to compress video files that exceed the attachment limit. There's a new option in Outlook that will let you do that before you send a video as an attachment.