Microsoft India says that all Lumias (in India?) will have Lumia Denim by the end of this month
13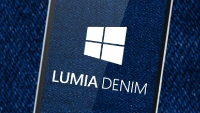 A couple of tweets sent out today by Microsoft India contain some interesting news.
The most popular Windows Phone ever
, the entry-level
Nokia Lumia 520
, has received the Lumia Denim update in India. That makes it the only model in the country to have received it. The second tweet says that the same update will hit all Lumia models by the end of this month. However, exactly what is being said here is open to interpretation.
Is Microsoft India saying that all Lumia models in India will receive the Lumia Denim firmware update by the end of this month, or is the tweet referring to all Lumia models worldwide? Microsoft has been saying that the update would be completed by early 2015 so the second interpretation would seem right. Additionally, the first tweet specifically mentions a particular model in India and the country is omitted in the second message.
On the other hand, the Twitter account used belongs to Microsoft India and it would be strange to see them talking on behalf of the entire company. Bottom line? We will have to wait to see what happens by the end of the month, or perhaps Microsoft can send out a clarifying release.
The Lumia Denim update brings changes for all Lumia models, but there are some cool new features specifically for the
Nokia Lumia 830
,
Nokia Lumia 930
and
Nokia Lumia 1520
. These include using the phrase "Hey
Abbott
Cortana" when you want to awaken your personal assistant from her beauty rest. It also adds a number of new features for the camera such as
Rich Capture, a version of HDR for Microsoft
. This feature melds together different versions of the same picture, processed at different exposures, to result in a more life-like final image. Moment Capture allows users to use a long press on the camera shutter to start filming video in 4K. Individual frames from the video can be viewed at 8.3MP. On the Lumia 830, you won't be able to record in 4K, and the individual frames are captured at 2MP.
With all eyes focused on Windows 10 Mobile, the Lumia Denim and
Windows Phone 8.1 GDR2 updates
are getting rushed out so that they can be enjoyed for months before the whole new OS build comes speeding down the pike.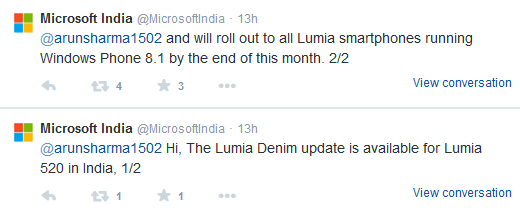 Microsoft India tweets out information about the Lumia Denim update
source:
@MicrosoftIndia
via
WindowsCentral