Microsoft FlashBack system looks to bring high-quality VR to lower-end phones
5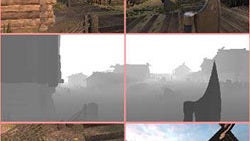 Are you excited for the future of mobile VR? You should be, with promising new systems like Google's Daydream getting ready to come to phones in just a few more months. And while we're definitely looking forward to checking out just
how impressive the VR experience can be on Daydream-certified hardware
, we're also understandably a little let down that
this next era of smartphone-driven VR won't be coming to existing handsets
. There are some good reasons for why that's happening, not the least which being concerns over performance with older, lesser-equipped phones. But is there no VR future at all for anything other than new, bleeding-edge hardware? Not if Microsoft Research has anything to say about it, as we learn about the innovative new FlashBack VR rendering system.
FlashBack is all about making trade-offs designed to side-step the limited computational power of mobile devices. Specifically, it lowers graphics-processing requirements at the expense of storage.
What that means is that FlashBack tries to pre-render as much of a scene as it can in advance, considering all the ways a user might attempt to view a virtual space and generating those 3D viewpoints. When a user later attempts to interact with this VR scene, viewing software can quickly call upon this pre-render cache, improving rendering speed up to eight times and reducing latency an impressive 15 times – and that figure's key to realistic VR.
Admittedly, FlashBack isn't without its problems – the biggest of which being that this pre-render routine places some big limits on just how interactive a virtual world can be. But while it's not a perfect solution, we're curious to see for ourselves just how well it might be able to extend the VR lifespan of our existing mobile hardware.
source:
Microsoft Research
(PDF) via
SlashGear
Recommended Stories