MetroPCS first in line for AT&T's disposal of assets post T-Mobile merger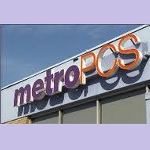 According to Bloomberg, if AT&T is forced to divest some assets in order to be allowed to purchase T-Mobile, pre-paid carrier
MetroPCS will be first in line
to scoop up all of the pieces that AT&T discards. AT&T has been in discussions with other carriers interested in buying the divested assets and the government would prefer to see the assets go to a carrier that could compete with AT&T, Sprint and Verizon after making the purchase. With 9 million subscribers, MetroPCS just might not be big enough to fill T-Mobile's shoes as a direct competitor to the top U.S. mobile operators. Other companies that AT&T has been talking to do not have a national footprint either, like Leap Wireless.
With AT&T's attempt to purchase T-Mobile, it seems that you can't tell the players without a scorecard. Of course,
the Department of Justice is suing
to try to block the deal. Last month,
Cellular South sued to block the deal
, and surprisingly Verizon's CEO Lowell McAdams said
the deal was naturally going to take place
because of T-Mobile's lack of capital to build out its network, while AT&T needed more spectrum. What isn't a surprise is that T-Mobile's vice president Tom Sugrue thinks that the deal will go through.
The most vocal objector of the merger has been Sprint CEO Dan Hesse. The nation's third largest carrier is suing to block the deal (join the club!) although at least one analyst says that
the carrier will benefit if the deal goes through
. But just in case the Feds don't feel the same way, AT&T has already hired
Bank of America
and
Merill Lynch
to help it carry out a possible divestiture, as we reported. The Bloomberg report says that the assets to be sold will cost $4 billion which might not be a problem for MetroPCS which is sitting on cash and equivalents of $2 billion. Earlier last month, AT&T said it would
consider selling up to 25% of T-Mobile
in order to get the deal done.
source:
Bloomberg
via
Engadget