Meizu's sleek holeless phone was never meant for release, company's CEO admits
3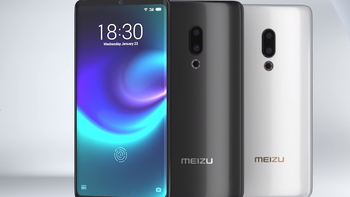 Just over a month ago the Chinese smartphone maker
Meizu started an IndieGoGo campaign
for a smartphone with some unique features, or rather, lack of features. Called the Meizu Zero, the phone was designed without any buttons or ports, relying instead solely on wireless charging and touch-sensitive inputs.
And while the design appealed to many, the price did not. Meizu wanted $1,299 from "backers" that wanted to receive the device when the campaign was over. Despite the "humble" goal of $100,000, Meizu managed to raise only about $45,000, which means even the few people that were ready to pay the hefty price tag (all 29 of them) won't be receiving the fancy phone.
It seems they lucked out, considering the recent statements made by the company's CEO on the
Meizu forums
that
Engadget noticed
. According to Jack Wong, the IndieGoGo campaign was an initiative of Meizu's marketing team and the holeless phone is just a project ran by the Research and Development team. The executive also said that while there is a prototype of the phone in question (it was at the Meizu's pavilion at MWC), the company had no plans of mass producing it, regardless of the outcome of the crowdfunding campaign.
This raises questions about what would have happened if the campaign had reached its goal and Meizu had to deliver at least 70 devices. Most likely, it would have joined all the other crowdfunding campaigns that failed to deliver on their promises.
It's possible that the company had other intentions initially but changed their tune once it was obvious how little interest there was in the device.
Meizu launched the campaign on January 31, just a few days after its competitor Vivo announced its portless phone,
the Apex
. The goal was, obviously, to shift some of the attention the device was getting to Meizu's own product. Vivo Apex hasn't gotten further than the Meizu Zero, however, we're yet to see a specific price and release date for the device, or even hints that it's headed towards production.