Meet Synergy, a neat Qi compliant wireless charger for your smartphone
4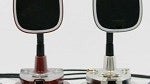 No doubt that crowd sourcing fundraisers have opened up opportunities for creative individuals and small companies all over the world.
The technology sector seems to have benefitted from this as well, with all sorts of great ideas, large and small, hatched to provide that cool accessory for whatever gadget we may have. The Synergy is certainly one of those.
Dubbed as
"Synergy: World's Best Wireless Smartphone Charger,"
you can see several unique design elements at work as well as some neat functional ideas that all fit nicely in the entire package. Synergy uses established ideas of rare earth magnets, Qi compliant charging and blends them into a simple and sturdy design that will work in your home and your car.
In the home, Synergy is grounded in a metal 1.5 pound base to keep things in place. For the car, a polycarbonate mount is included to place on your vehicle's windshield. With those in place, you can tote the receiver where you want and securely place it on either plate.
Synergy also has built in NFC tags so you can have it automatically execute tasks on your smartphone when you mount it, such as launch your alarm clock or Google Maps. It also contains an LED light which illuminates when your device is nearby.
Like all crowd funded projects, this one has several tiers to reach a goal of $150,000. Synergy does not look half bad at all, plus it will be available in several colors (black, burgundy, silver, blue, green). The "Early Bird Special" is almost sold out at the time of this writing, fetching you a complete set for $75. Tiers go up from there to $95.
If you are interested, click on the source link and get your Synergy in time for Christmas.
source:
Synergy
(Kickstarter)