Meet Om/One – the "world's first levitating Bluetooth speaker"
14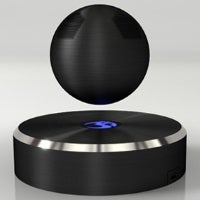 When we think of really cool room decoration options, a floating black orb that pumps our ears full of phat tunes sure sounds like an object of interest. Apparently, Om Audio had the exact same thing in mind, and behold, it turned it into reality! The Om/One is "the world's first levitating Bluetooth speaker".
If the fact that this speaker floats above its magnetic platform like a mini-Death Star isn't enough on its own, the Om/One comes with the promise of crystal clear frequencies, stereo sound functionality when two speakers are paired together, built-in microphone for levitating phone calls, portability, and Bluetooth 4.0 connectivity.
Dimensions-wise, the Om/One orb measures 3.6 inches (9cm) in diameter at a weight of 0.75 lb. (340 grams). Sound comes through a 75mm audio driver, and the Bluetooth wireless range is 33 feet (10m). As for the base station, which keeps the orb floating 1.2 inches (3cm) in the air , it measures 6.3 inches (16cm) in diameter x 1.6 inches (4cm) in height, and weighs 1.3 pounds (590 grams). The whole contraption is powered by a 12Vdc cable.
The Om/One can be had for $179 (early backer price), or $199 on pre-order. It's available in black, white, and a special disco ball finish. Alas, there's no Death Star skin, but we're pretty sure someone at Om has tossed the idea on a meeting already.