MediaTek's 10-core Helio X20 visits Geekbench, demolishes multi-core performance records
27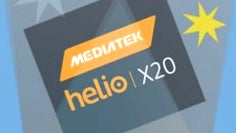 Revealed all the way back in May of this year
, MediaTek's 10-core (or deca-core) Helio X20 was slated as the world's first mobile chipset to offer as many physical cores. Over half a year later, however, and the silicon is yet to make an appearance in a publicly-available product. But we do have one of our first, legit-looking benchmark sightings of the chip.
Caught wandering around Geekbench's test suite, a device code-named "alps mt6797" made some 10 passes through the benchmark in a single day, all returning very consistent results. In fact, with a peak of over 7,000 points in the Multi-Core segment of Geekbench, this (we assume) early version of the chip already offers better performance than existing solutions like the Apple A9, Snapdragon 810, and Exynos 7420. More impressively, however, that result is still great in the context of other leaked benchmarks detailing the performance of the upcoming Snapdragon 820 and Exynos 8890.
Looking at the Single-Core scores achieved by the Helio X20, however, we see that single-threaded performance isn't as great as even current generation chips, with a peak of just under 2,100. In comparison, Apple's aforementioned A9 pulls over 2,500 points, so those ARM Cortex-A72 cores within the X20 aren't quite the powerhouses that the A9's Twister ones are.
Going forward, it'll be interesting to see what kind of performance we'll get in the real world out of a deca-core chipset, though as far as Geekbench is concerned, the future is bright. That said, MediaTek silicon has traditionally had trouble in the graphics department, and with a quad-core ARM Mali-T880 on board the X20, we're a bit concerned that the Taiwanese company will again run into trouble. Time will tell.