Mayor of Quebec City, Canada packs on $20,000 in roaming charges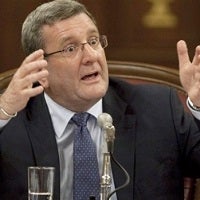 Régis Labeaume, mayor of Quebec City pled ignorance about how mobile billing, specifically international roaming, works when his bill showed data roaming charges in excess of CAD $20,000 following a trip to Rome (really), Italy.
While roaming in Rome (yeah, we went there) earlier this year, Labeaume was hammering data through his iPad to the tune of $11,800. That is not all though, because the good mayor was also using his smartphone where roaming fees tallied over $8,000.
Later in the year, while on vacation in the United States, Labeaume tacked on another $2,100 in data charges on his iPad. Who is he mad at? Not himself obviously, but his (undisclosed) cell carrier, "If you ask me why, I do not know. I'm very angry. I do not understand how cellphone companies allows this to happen."
Further excusing himself by saying he was not aware data roaming fees can accumulate so quickly, "They told me I was using the 3G instead of Wi-Fi. I'm not sure I understand everything," Labeaume was able to convince the carrier to reduce the charges. From the trip to Rome, the $19,860 was dramatically reduced to $6,881, still a hefty bill to stick to the taxpayers.
The mayor confirmed however, that his campaign fund, Équipe Labeaume paid the nearly $7,000 bill. However, he stuck his $2,100 vacation roaming charges with the municipality because, "I work when I'm in the United States. They send me stuff. I'm never on vacation." Labeaume justified expensing the charges over paying out of his own pocket by stating that the expenses were incurred "within his business functions."
Data roaming arrangements vary by plan and carrier, but using Rogers as an example, and assuming the mayor did not have a roaming feature enabled, the pay-per-use rate in Europe is
$10 per-megabyte
. That means for however long Labeaume was in Rome, he used about 2GB of data between his smartphone and iPad. Data roaming in the United States is billed at $8 per-50-megabytes, putting his tablet use at
roughly 13GB
while on vacation. Busy guy,
eh?
The city's technology department has adjusted its operations to ensure this does not happen again. We do not know what those measures are, but we gather that some of it may involve removing the mayor's ability to use "the 3G" while traveling.
sources:
CBC
via
MobileSyrup