Martin Scorsese's Hugo is today's iTunes gift in the US, the rest of the world gets Home Alone
6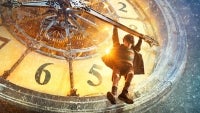 As part of Apple's annual "12 Days of Gifts" holiday special, today the company gives away Martin Scorsese's Hugo on iTunes US, and the thug-outsmarting classic, Home Alone, in the rest of the world. Released in 2011, Hugo stars Jude Law, Emiliy Mortimer, Sacha Baron Cohen and Sir Ben Kingsley, and has won plenty of critical acclaim, despite a disappointing box office performance.
The movie, which is the first Scorsese film shot in 3D, is based on the novel The Invention of Hugo Cabret by Brian Selznick. It tells the story of Hugo, an orphan who lives in a Parisian railway station and maintains its clocks. His dead father taught him how to repair mechanical devices, and left him with a mechanical man that doesn't work without a special key. The rest of the movie is all about figuring out the secret of the automation, which takes the boy and his company on a magical ride that pays homage both to fantasy, and the art of movie-making itself.
Hugo can be downloaded from the link below. It's 2 hours and 6 minutes long, and is available in 4.31GB 720p and 1.85GB SD downloads. Apple also gives away an iTunes Extras behind-the-scenes feature on the film, which includes interviews with cast and crew.
Download:
iTunes
(US)
source:
The Verge