Marshmallow now on 10% of all Android phones in Google's latest stats
6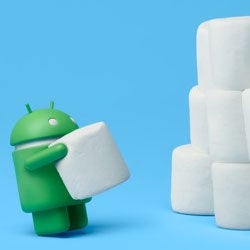 Android's notorious for the glacial pace at which its smartphones migrate over to the platform's latest release: a combination of the sheer number of devices out there that need updating, months-long pipelines for the preparation of software for even just-launched handsets, and the delays imposed by carriers as they certify new updates all contribute to a situation where the vast majority of Android phones in operation at any given time are running old software; it's a stark contrast to the
situation over on iOS
. But
little by little we're seeing progress
.
Now in Google's latest monthly report on Android distribution, that progress crosses a milestone, with Marshmallow finally passing the 10% mark.
It's been eight months now since Marshmallow first landed, and we're finally seeing some major growth: two months back Google reported 4.6% of all Android devices running Marshmallow, and last month that figure grew to 7.5%. Now we're once again witnessing solid gains, as Marshmallow deployment hits 10.1% of all devices in active use.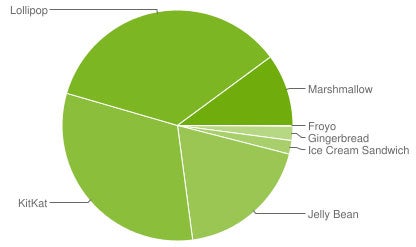 Admittedly, the rate of growth is a tad below what we saw last month, but we're not expecting things to cool off at all, and between the release of new phones running Android 6.0 right out of the box and the
continuing release of Marshmallow updates for existing handsets
, we wouldn't be surprised to see it hit 15% by mid-summer.
If Marshmallow's this month's big Android winner, who are the losers? Unsurprisingly, all the other releases are down a bit, but Lollipop is only showing minor losses, dropping a mere 0.2% last month. Kit Kat and Jelly Bean see slightly more pronounced abandonment (going down 0.9% and 1.2%, respectively).
Migration to newer builds slows once again on the extremely-old end of the spectrum: Ice Cream Sandwich lost just 0.1% of its share, and Gingerbread only 0.2%. And through some miracle, Froyo usership is somehow holding completely steady – some users just don't want to upgrade to newer phones.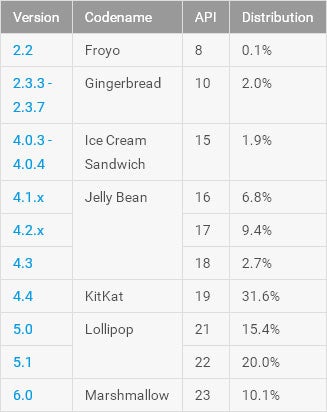 source:
Google