Marriott fined by FCC to the tune of $600,000 for blocking personal Wi-Fi hotspots at one of its hotels
18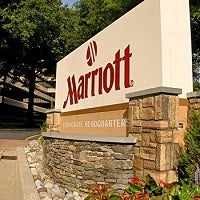 If you travel often, chances are you use your smartphone as a Wi-Fi hotspot, or have your own Mi-Fi mobile internet device. Travelers like using Mi-Fi devices in lieu of using hotel provided Wi-Fi connectivity due to cost and security. Plus in many cases, carrier networks offer far superior performance.
Marriott was caught blocking its customers' personal mobile internet signals at its Gaylord Opryland Hotel and Convention center in Nashville, Tennessee.
Blocking the hotspots was bad enough, but what the hotel was doing to its guests beyond that was even worse, charging customers up to $1,000 per device to get online using the hotel's connectivity services. The Gaylord Opryland Hotel has been under the management of Marriott since 2012, and following an investigation by the FCC's Enforcement Bureau in 2013, it is believed that the hotel chain has been jamming Wi-Fi signals since the beginning.
The jamming equipment would scan for Wi-Fi networks and send de-authentication packets to users which would interrupt their browsing. The FCC ruled that Marriott's action violated Section 333 of the Communications Act which states, "no person shall willfully or maliciously interfere with or cause interference to any radio communications of any station licensed or authorized by or under this chapter or operated by the United States Government."
The FCC assessed a $600,000 penalty and Marriott must stop blocking its guests. Moreover, Marriott must hand over details over its access point containment features at all 4,000-plus properties owned or managed by the chain, and file quarterly compliance reports for the next three years.
Marriott issued the following statement over the affair:
"Marriott has a strong interest in ensuring that when our guests use our Wi-Fi service, they will be protected from rogue wireless hotspots that can cause degraded service, insidious cyber-attacks and identity theft. Like many other institutions and companies in a wide variety of industries, including hospitals and universities, the Gaylord Opryland protected its Wi-Fi network by using FCC-authorized equipment provided by well-known, reputable manufacturers. We believe that the Gaylord Opryland's actions were lawful. We will continue to encourage the FCC to pursue a rulemaking in order to eliminate the ongoing confusion resulting from today's action and to assess the merits of its underlying policy."
via:
SlashGear