Marketshare of capacitive touchscreen devices to rise in 2010
This article contains unofficial information.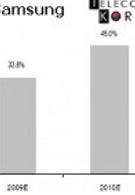 Based on a report by Telecoms Korea , the marketshare of touchscreenphones has increased from 13.9% of all cellphones shipped in 2007 to37.2% in 2009. With those figures in mind, it is not surprising thattwo Korean manufacturers are planning on producing more touchscreenmodels in 2010. Samsung is forecast to ship 57 million touchscreenhandsets in 2009, increasing by 100 million units next year, whichworks out to 45% of all of the company's cellphone shipments. ShinhanInvestments says that fellow Korean cellphone maker LG plans on makinga smaller, more gradual increase as it's touchscreen production willrise from 36% of all phones produced by the company in 2009, to 40% oftotal production in 2010.
The two Korean firms also areincreasing the percentage of touchscreen phones using a capacitivedisplay rather than the resistive display that requires pressure fromanything that can be pressed on the screen, like a finger, stylus orpen cap. Capacitive screens turn the touch of a finger into electricalcharges that the screen reads to move items around.. Samsung expectsthat 65% of it's touchscreens will have capacitive display in 2010while 20% of LG's touchscreen phones are expected to be capacitive nextyear. While more expensive than resistive displays, the number ofphones using capacitive screens is expected to rise nearly fourfoldfrom 2008 to the end of 2013, thanks to the popularity of handsets likethe Apple iPhone, the BlackBerryStorm2, the Palm Pre and the Motorola DROID-all of which use the morecostly type of display.
source:
TelecomsKorea
via
UnwiredView